Receive Money from Around The World with AFRICUNIA BANK
Quickly and easily receive and request money online with AFRICUNIA BANK.
Over 180 countries and 120 currencies supported.
See How it Works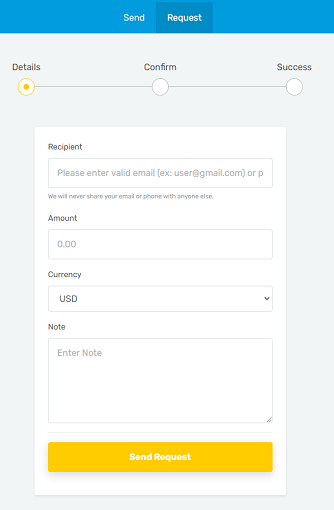 The simple way to Receive Money
Keep track of every online banking transactions with AFRICUNIA BANK! No need to wait in the long queues of Western Union & MoneyGram offices or banks to receive the money! We have over 180 countries on the board, and we support 30 currencies and more.
Sign Up Your Account
You need to register yourself first. Then log into the account you created and enter the bank details or card details required into the fields.
Enter Payer Details
In the second step, you have to enter the payer name and email address, then enter the currency amount to request the payment.
Receive Money
After you submit the request payment, the payer will then be notified via mail for the payment.
Why choose AFRICUNIA BANK?
Here are the top reasons why you should AFRICUNIA BANK for managing your money and transfers.
Over 180 countries
Our online transfer money app offers you a real-time payment method in over 180 countries and supports 120 currencies worldwide.
Lower Fees
Customers are exclusive for us; that's why our transactional fees rates are affordable. We believe in charging a very minimal fee that could be affordable for anyone easily.
Easy to Use
Our online money transfer app is convenient and friendly.
Faster Payments
We believe in protecting the customer's money by making online money transfer fast and simple
100% secure
Payments in our platform is 100% secure. Users' personal data, Credit Card such as Master Card and Visa payments are performed under an encrypted network and a secure method of transmission
24/7 customer service
Send us your queries and secure messages at any time with the help of the livechat on our site as well as on the apps and other contact details. Our professional Customer Support is happy to serve you at any time.
How does it work?
Very easy! Send, Receive and maintain your money in one place via AFRICUNIA BANK App anywhere and anytime. Open your free online digital bank account within just 5 minutes. Enjoy the convenient banking experience: minimum account fee, no paperwork, no queues and no hassle.
Learn more
What people say about AFRICUNIA BANK
A payments experience people love to talk about
"Easy to use, reasonably priced simply dummy text of the printing and typesetting industry. Quidam lisque persius interesset his et, in quot quidam possim iriure."
Jay Shah
Founder at Icomatic Pvt Ltd
"I am happy Working with printing and typesetting industry. Quidam lisque persius interesset his et, in quot quidam persequeris essent possim iriure."
Patrick Cary
Freelancer from USA
"Only trying it out since a few days. But up to now excellent. Seems to work flawlessly. I'm only using it for sending money to friends at the moment."
Dennis Jacques
User from USA
"I have used them twice now. Good rates, very efficient service and it denies high street banks an undeserved windfall. Excellent."
Chris Tom
User from UK
Frequently Asked Questions
Can't find it here? Check out our Help center
Sign up today and get your first transaction fee free!
Sign up Now